When a Loved One Dies: Articles About Grief and Hope
---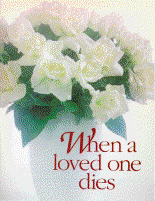 Shock, numbness, frustration, emptiness, loneliness — death is real, and so are its effects. We don't like to think about death, so we live as if we are never going to die. No wonder death often finds us unprepared. But feelings of extreme pain and loss must be confronted. We have written these articles to help our readers cope with grief and the loss of loved ones.
These articles offer positive help in tackling tough issues. We hope you will come to understand much more about facing death, not only on an individual basis, but also how to explain death to children — they need an explanation and the stability only a parent can give. We include the perspective of a teenager handling life after her father died.
You'll also learn four things you can do to help people in times of bereavement — four practical ways to be helpful to others when they need it most. If you have just suffered loss, you'll discover how to respond to the emotional turmoil, loneliness, guilt and changing relationships; how to set goals and maintain good health; and how to get your life going again.
"If the Spirit of him who raised Jesus from the dead is living in you, he who raised Christ from the dead will also give life to your mortal bodies through his Spirit, who lives in you" (Rom. 8:11).
Faced with death and coming to grips with the frailty of human life, many begin for the first time to ask some searching questions about life, death and the possibility of a life hereafter. Is God working out a master plan for humankind? If so, what's our destiny? These articles face these questions squarely and provide the truth about life after death. You'll find the answers comforting and filled with hope, not despair. There is a fantastic future beyond death, we assure you. Be sure to read every word!
Articles on another site that may be of help:
The Loss of a Loved One
Stages of Grief
Daddy's Gone
How You Can Help Others
Woman, Wife, Widow
Working Through Your Grief
Beyond Death
On Death and Dying
Not Long Now…
Funeral for a Friend
Help us provide more content like this by giving today
Donate