Books and Booklets: The Gospel: From the Bible to the World Today
---
This book is a compilation of articles that are available for free in digital form. If you wish to purchase them printed in book form, click on the image below.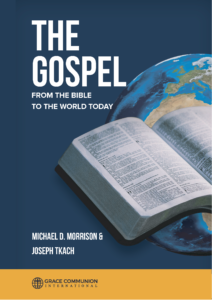 This book is a compilation of numerous articles, most of them written independently of the others over the span of twenty years. There is inevitably some overlap, and perhaps even some contradictions, although all articles have been edited in 2014 for this compilation. Some of the articles will be more relevant to your needs and interests than others, so feel free to skip around according to which titles interest you. We hope that you find the collection useful.
The gospel is good news about the kingdom of God — the news that God has qualified us to be there! This is by grace, not by anything that we do or deserve. We are qualified by what Christ did in his life, death and resurrection. Our sins would disqualify us, but we are forgiven because our Creator and Savior, Jesus, took our sins upon himself and has given us his righteousness.
But the gospel is more than forgiveness: Christ does not just wipe away our sins and leave us at that point. The gospel is also the good news of spiritual transformation, of rebirth, of being conformed to Christ in who we are and how we live. Forgiveness is not an end in itself — it is for a purpose, and the purpose is that we will be in the kingdom of God, living with him and with each other forever, in an environment of love. God wants to share his life with us.
Salvation is not just a change in location, or a change in length of life — it is an eternity with God, in a realm and society filled with love. This has implications for the way we live today, because our life now reflects whether we want what God has given.
The metaphor of "kingdom" (or family terms such as "children") reminds us that salvation is for relationships, for social interactions. Paul's stress on grace reminds us that although we cannot qualify for this on our own, it is given to us, purchased for us by our Savior. The gospel is good news about how we "get in," good news about how God works with us now, and good news about an eternity of good life.
Help us provide more content like this by giving today
Donate