Acts of the Apostles: Exploring The Acts of the Apostles
---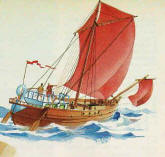 This book is commonly called "The Acts of the Apostles," but it does not discuss most of the apostles – it focuses only on Peter, and then Paul. The book describes the spread of Christianity from its origins with Jews in Jerusalem, to eventually include all peoples, even in the capital city of the Roman Empire. The story is filled with drama, miracles, and speeches about the risen Christ.
In addition to the articles listed below, you might also be interested in "A Christian Council About Old Testament Laws," which is chapter 5 in the book Sabbath, Circumcision, and Tithing.
This series of articles is also available as a series of seven e-books. Several formats are available to fit almost any e-book reader. To see the series, click here.
Help us provide more content like this by giving today
Donate