Books and Booklets: Exploring the Word of God, volume 4: The Letters of Paul
---
This book is a compilation of articles that are available for free in digital form. If you wish to purchase them printed in book form, click on the image below.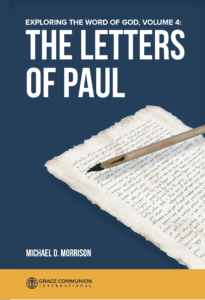 In this lay-level commentary, Michael Morrison, instructor in New Testament at Grace Communion Seminary, walks through the letters of Paul chapter by chapter, showing how Paul presents the gospel of salvation – given to us by Jesus Christ out of his love for us. This affects who we are and how we live.
"Exploring the Word of God" began in the mid 1990s. We were able to print a volume on the books of Moses, but the series was never continued, and the first volume has fallen out of print. However, we had a substantial amount of material written, and we added more in the intervening years. These materials have been edited and are on our website. We have also compiled our articles on Paul's letters and are happy to make them available through print-on-demand publishing.
Paul's letters are a key part of Christian theology and teaching. They not only show that the foundation of salvation is the death and resurrection of Jesus Christ, but also explain how salvation should affect the way we live with one another. One theme found throughout is the grace of God:
* by grace God sent Jesus to be our Savior
* by grace we are saved, not by any good works that we do
* by grace the Spirit works in us, transforming us to be more like Christ
* by grace we love one another
* by grace we will be resurrected with Christ and be given immortality with him.
Paul's letters show a church leader driven by his love for Christ, and driven by his love for the people of Christ. There is warm pastoral concern, and a firm insistence on truth. There are parts that are hard to understand, some parts that are easy to misunderstand, and large sections in which the message is clear and strong. Although we do not have comments written for every chapter, we will proceed through the letters chapter by chapter for a richly rewarding walk with the apostle.
Help us provide more content like this by giving today
Donate