Books and Booklets: Exploring the Word of God, volume 2: The Gospels
---
This book is a compilation of articles that are available for free in digital form. If you wish to purchase them printed in book form, click on the image below.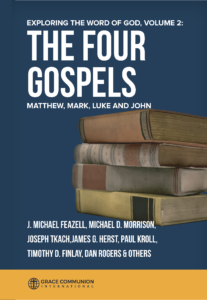 The person and work of Jesus Christ is at the heart of Christianity. So we would expect the Christian Scriptures to include an account of Jesus' life. But why do we have four – the Gospels According to Matthew, Mark, Luke and John? Isn't this redundant? Wouldn't one be enough?
On the contrary, our knowledge of Jesus Christ would be incomplete if we had only one Gospel. Or even if we had three Gospels but were missing one. Matthew, Mark, Luke and John each told the story from a different perspective, because each had a different audience in mind. We tend to blur these four distinctive portraits of Jesus together. But knowing how an act or saying of Jesus fits in with each author's perspective can greatly enhance our understanding of its meaning.
In this volume, we examine how each Gospel differs from the others, and numerous detailed studies. This volume includes more than 100 articles about the four Gospels collected from Christian Odyssey magazine and other publications of Grace Communion International. Illustrations by Ken Tunell.
The articles were written over a span of 20 years – from the 1990s to 2013. They have been edited for this collection.
Help us provide more content like this by giving today
Donate