Evangelism: Show up — Declare — or Win?
---
How would Christ have us preach the gospel? Three broad approaches are in use today. Evangelism can be thought of as presence, proclamation or persuasion. Or in more colloquial terms, show up, declare, or win.
Persuasion evangelism (which of course involves being present and declaring the gospel) is by far the most effective and biblically supported model. We fall short of Christ's intent if we define presence or proclamation evangelism as the primary goal.
This is not to say that the activities involved in presence or proclamation evangelism are not good Christian endeavors, but we must realize that even unbelievers can alleviate suffering and do good works. But only those who are in Christ can lead others to Christ.
God's primary purpose for us, and for the people we meet, is that we will all share eternity with him. That's why Paul, though he cared very much for the needy (consider the offering for the saints in famine-stricken Judea), he sought by all means to persuade people of salvation through Jesus Christ.
However, sometimes we face a situation where persuasion is either not possible or too dangerous. Sometimes even proclamation is not viable. In those cases, we revert to presence evangelism, but we never resign ourselves to making presence or proclamation our only goal—we always strive to return to persuasion evangelism.
The church's efforts in Bangladesh are an ideal example. Bangladesh is one of the most difficult mission fields in the world, and therefore one of the areas that has the greatest need for the gospel. John Biswas began with proclamation evangelism. Before long, several gospel workers
were nearly killed, and our training facility was nearly burned down by angry mobs. We backed away to reconsider how to proceed.
John set out to establish a presence and let Christ be known through sharing his love with people round about. Everything was done with the intent of being able to see changed lives and permanent spiritual communities being formed. There is now a beautiful and effective progression in Bangladesh, from presence to proclamation to persuasion. Spiritual communities have been and are being formed, and they are gaining in strength and spiritual health. They remain a blessing to all who are round about.
Definitions
Presence Evangelism: Letting your light shine, often through good works. Example: World Vision, Mercy Ships, Kids Alive, local outreach projects.
Proclamation Evangelism: Creation of situations where people are told about Jesus Christ and invited to accept him. Example: Crusades, door-to-door evangelism, musical touring evangelism, Jesus Film project.
Persuasion Evangelism: Establishment of relationships that lead to conversion and discipling of converts to a basic level of spiritual maturity. Example: church plants, World Impact, cell churches.
Proclamation Gone Wrong
Ranjon Roy and his wife are part of the gospel work we support in Bangladesh. It's a risky occupation, but Ranjon patiently establishes a presence in a village. Based on the goodwill generated at the "presence" level, Ranjon introduces those who are open-minded to the Scriptures. As the Holy Spirit opens minds further, people are led to accept Christ as their Lord
and Savior.
Ranjon's brother was also a gospel worker, involved in strictly "proclamation" evangelism—in this case, showing the Jesus film. He was stabbed to death in reprisal for attempting to indoctrinate villagers away from Islam. He was hailed in a U.S. Christian newsletter as a martyr. Perhaps he was, but perhaps there was a lack of wisdom there as well.
 Presence Evangelism
Goats arrive on the upper deck. The goat program has opened doors and hearts in the villages. Our people establish relationships with village leaders, who help identify the poorest of the poor, who are then given a goat. One goat can, over time lift a widow from destitution.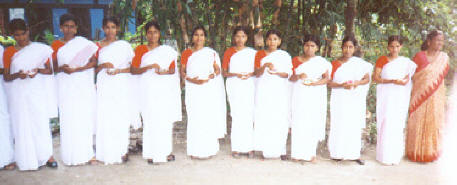 Presence Evangelism 
The nurses training program is the latest of the "presence" evangelism efforts in Bangladesh. Professional training in home-care nursing is given. Pictured above is the second class to graduate from the training program. These young women will fan out across the countryside providing home-care for elderly and invalids. The nurses represent all faiths, but the Christian nurses have a special mission to share Christ's love with as many as possible.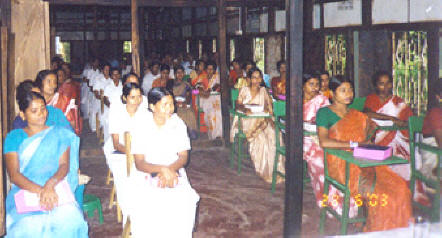 Proclamation Evangelism
Our ultimate goal is always to see people who are dead in their sins become alive in Christ. Pictured is a Bible study being conducted at our training center. Many of these women were reached through one of various "presence evangelism" programs. But their desire has gone beyond the physical to a desire to understand the Scriptures and to come to know the Christian God. The vast majority of attendees are women. This is common in many mission fields. The women teach the children, and eventually many husbands follow.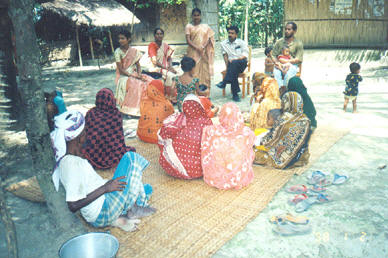 Persuasion Evangelism
Cell groups are formed where new converts can be part of a growing spiritual community. After conversion and a time of discipleship, these brothers and sisters in Christ become part of the presence and proclamation process. Each new household opens the door to relationships that are open to persuasion evangelism from the outset.
Author: Randal Dick
Help us provide more content like this by giving today
Donate