Speaking Of Life 1005 | Jesus Lost Among Us
As I travel about the globe I find myself in lots of airports. It strikes me from time to time as I walk past dozens and dozens of other sojourners that each one is created in the image of God, that Jesus died for one and all, and we get to share eternity in a far better set of circumstances. It is an ordinary experience with an extraordinary twist.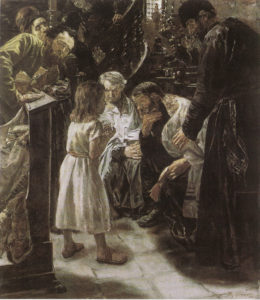 This painting, The Boy Jesus at the Temple, by Max Liebermann, is one of the most famous renditions of this text from Luke 2.  It was first displayed in an exhibition in Munich in 1879, and was universally panned by critics.  The discussion was so heated, that word made it all the way to the floor of German parliament at the time!
Any painting of this story usually showed Jesus as an other-worldly, angelic type figure who was overwhelming his audience with truth.  This painting, of a very normal-looking  t'ween talking shop with some curious rabbis, didn't have this celestial quality.  It was far too normal, far too everyday, and therefore went against the sensibilities of critics at the time.
But that is the true power of this story.  Advent starts with angels ripping the sky open and ends with a teenager wandering off on a family vacation.  The utter ordinariness here is where this gritty story meets us in our everyday lives.  Which is indeed where Jesus meets us most often—in what Richard Foster called the "disheveled friction" of day-to-day stresses and small joys.
This story, within in its narrative context, is very much like the journey of faith.  It might start with fireworks—a radical turning from sin and addiction, a powerful experience, but then turns to our relationships with our spouse or our church family, to the way we do our jobs or conduct business.  Jesus may even seem "lost" to us at some point.  God brings us through stages as our faith matures, and the old ways of knowing him and meeting him make room for new.  You may find yourself loving to receive the teaching and music and service of the church, and then at some point Jesus calls you to join in that service—to meet him there.  To go and look for him and "find" him in the new place he has called you to.
To add texture to this story, Max Liebermann was Jewish.  He had based his painting on actual synagogues in the area where he lived.  In a time when anti-Semitism was on the rise in Germany, this portrayal was too favorable, and too gentle to the Rabbis who were looking on.  In short, they looked far too human:  confused, uncertain, yet considering what this remarkable boy had to say.
As history trudged on, Liebermann was eventually persecuted for his faith and heritage.  Soon after his death in 1935, his wife was forced to sell the family estate to the Nazi regime.  Less than a hundred yards from there was the villa where the infamous Wannsee Conference was held in 1942, where the so-called "final solution" to the Jewish question was discussed.  Thus, within plain sight of where this Jewish artist had lived, the concentration camps were first planned.
God meets us in the middle of history.  Woven into the rough fabric of our history and all of human history, Jesus emerged into a world where he would be mistreated, misunderstood.   The story of Jesus doesn't end with the warmth and glow of Christmas, but only just begins and takes him all the way to the cross and beyond.  He truly got "lost" among us.
I am Greg Williams, Speaking of Life.